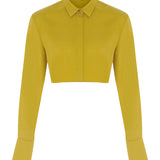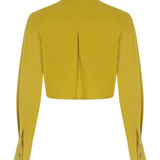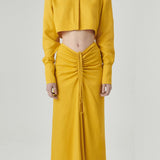 Description

Details & Fit

Shipping Information

Returns & Exchange
Muse For All Steph Shirt
Short shirt that ends below the bust. It has a comfortable cut as it has a pleat on the back. You can complete the look with a Steph Skirt or Pants.
Model size: EU 34/XS
Height: 174 cm

Perfect fit, choose your own size
%100 Viscose
Color: Mustard
Standard pattern
30°C machine wash
Dry Clean
Made in Turkey

Yurtiçi Shipping: 2-4 working days, free

Taxes and charges are included in the item price.
If your product is in the same condition as when you received it, you can return it within 14 days. You can complete your transaction with Yurtiçi Cargo for the product you want to return or exchange, by typing the information requested from you in the empty field in the request form inside your cargo package.

*The cost of the cargo sent by Muse For All is covered by the institution. The cost of the cargo sent for return or exchange is covered by the sender.
---